Paul Stanley Thinks Ace Frehley Will Get Over KISS, Gene Simmons Feud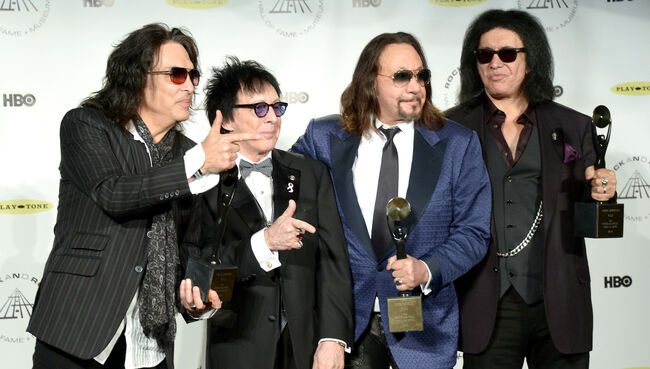 Paul Stanley isn't sweating the feud between his fellow Kiss co-founders Gene Simmons and Ace Frehley.
More than a decade after Frehley's unceremonious breakup with Kiss, the guitarist made his way back into Stanley and Simmons' good graces. But that all changed in January, when Frehley lit up his former Kiss band mates in reaction to an interview the pair gave in which they dredged up his battles with alcoholism and questioned his fitness to tour.
"I think that whatever ill will or anger there is, [it] usually dissipates over time; hopefully it will," Stanley told Fox News (a network which banned Simmons for life for misconduct). "The difference between us and other families or other relationships is that ours finds its way into the news. Everybody goes through things that are similar, but in our case, it's entertainment for people."
In a lengthy diatribe posted to his official Facebook page in January, Frehley accused Simmons of groping his wife last spring when the two reunited for one of Simmons' Vault experience VIP events. The Spaceman Frehley said his wife complained to him about Simmons' behavior at the event, but in order to maintain his thawed relationship with Simmons, Frehley convinced her to forgive and forget.
"Reading the news and gossip is entertainment," Stanley added. "You don't get to read what your neighbors are spatting about but you get to read what celebrities are spatting about. I wouldn't lose any sleep over it."
Frehley and Simmons went on tour together with their respective solo bands last summer, and Frehley repeatedly sang Simmons' praises, crediting him with helping to name his latest solo album (on which the pair co-wrote two songs). As Kiss began preparing for its 'End of the Road' farewell tour in late summer, Frehley made news when he hired Simmons' solo band to replace his own.
Frehley made no mistake in recent years about the fact that he wanted (or expected) to be invited back into Kiss for the band's farewell. His fury over Simmons and Stanley ignoring his 12 years of sobriety and significant solo success came on the eve of the 'End of the Road' kickoff show.
Both Stanley and Simmons have suggested that they would be interested in collaborating with their former Kiss band mates (with one exception) on the band's farewell tour, but Frehley is the one former band member fans are clamoring to see a reunion with. And that's never seemed more unlikely.
Photo: Getty Images

Maria Milito
ON AIR: Weekdays 9AM-2PM. Maria Milito, a native New Yorker, has been heard on Q104.3 since 1996 playing your Beatles and Workforce Blocks!
Read more