Van Halen Considered Replacing David Lee Roth With Sammy Hagar In 1977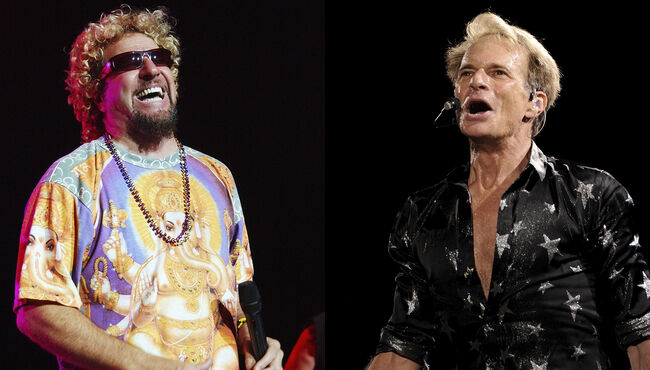 When Van Halen contacted Sammy Hagar in 1986 to replace departed front man David Lee Roth, it wasn't the first time Hagar's name had come up within VH.
Longtime Van Halen bassist Michael Anthony and Hagar himself recently confirmed what Van Halen's former manager, Noel Monk, wrote in his 2017 memoir Runnin' With The Devil: A Backstage Pass to the Wild Times, Loud Rock, and the Down and Dirty Truth Behind the Making of Van Halen.
Monk claims in his book that while the band was recording its self-titled debut album, producer Ted Templeman was unhappy with Roth's vocal performance and mentioned that the band should take a look at replacing Roth with Hagar.
"That's totally true," Anthony said in a recent interview with Eddie Trunk. "Ted did make a suggestion at one point, yes."
The bassist added that the band members told Templeman prior to recording that they wanted their debut to sound like another band Templeman had produced: Montrose, which Hagar fronted from 1973 to 1975.
Hagar said he was never contacted at the time and only got the story from Templeman himself years later. But the singer added that he, like many longtime VH fans, doesn't like imagining Van Halen without its Roth era.
"The way it all went down is so much better," Hagar said. "The band had two lives, you know. And most bands don't have two lives. I mean, you're lucky to get one life out of rock and roll. To have two lives like that, I think it was better for the band, for the legacy. I came in and it worked, which was, like, against all odds."
He adds that if he was in Van Halen from the beginning, the band "probably would have broken" up before getting to the hit albums of the mid-to-late-'80s.
Also, the period in which Hagar wasn't in Van Halen was important to his career. He released five solo albums between '78 and '86, including his biggest solo hit, "I Can't Drive 55." Hagar's solo catalog is featured prominently in live sets by his new band, The Circle, which features Anthony, Vic Johnson and Jason Bonham.
The Circle's debut album, Space Between, is available Friday, May 10.
"From the bottom of my heart, those first few Van Halen records are great records, up to 1984, were great records," Hagar added. "I take nothing away from that. I couldn't have walked into a band like that without that happening first. We became a stadium act anywhere in the world — all No. 1 albums. You don't start that way. It's almost like, well, Dave did all the dirty work, and I walked in and said, 'Yeah!' (Laughs)."
Hagar added that despite whatever problems Roth might have with him, he still plans to invite Roth to perform at his next High Tide Beach Party & Car Show. He says Roth was close to appearing last year.
Photo: Getty Images

Maria Milito
ON AIR: Weekdays 9AM-2PM. Maria Milito, a native New Yorker, has been heard on Q104.3 since 1996 playing your Beatles and Workforce Blocks!
Read more