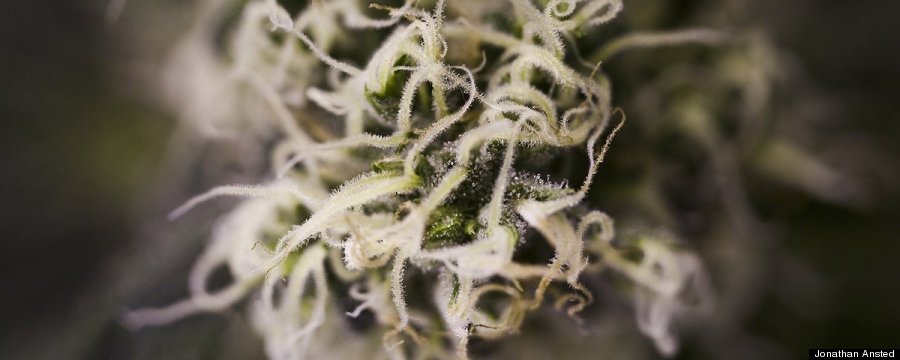 Have you ever looked at head shots of sticky-icky, man? Have you ever looked at head shots of sticky-icky -- on weed?
Whatever your feeling about marijuana, these photos by Jonathan Ansted are sure to give you a contact high. Just look at those little hairs! The THC crystals on those beautiful buds!
But seriously, have you really sat down with the Wingdings font? Like, really sat down with it. There are some serious anti-Semitic codes in that software, man. Like, if you type "NYC" in the old version of Wingdings, you get a skull and crossbones, a Star of David, and a thumbs up. What, you don't think Bill Gates would do something like that, man? Well have you ever typed "q33ny" -- the flight number of one of the crashed planes on 9/11, seriously, I found that on Wikipedia -- in the old Wingdings? You get an airplane, two towers, a skull and cross bones and a Star of David. That font was developed in 1997, dude.
MICROSOFT KNEW. The odds of making that series of symbols in any given message on a font made of symbols containing random characters is, like, one in infinity.
And what did Microsoft do to stop it? Bill "Red Hands" Gates changed the font to feature an eye, a heart and a city skyline. I HEART NEW YORK, BRO.
Hey, do you have any more of that Raisin Bran Crunch?
Click HERE to see more pics.

Joe Johnson has been in the radio industry since 1999 working as everything from overnight jock to program director and everything in between. He has worked in a variety of markets including Tampa, FL, Gainesville-Ocalla, FL, Jackson, MS, Fayetteville, NC, Blacksburg, VA and currently Roanoke, VA. He has programmed formats as varied as his musical tastes including Active and Mainstream Rock, CHR, Sports and News Talk. He is a graduate of The University of Florida with both his undergrad and masters degrees in Communications. He is an avid sports fan, supporter of local music and motorcycle rider and has hosted a number of events including everything from charity functions to comedy showcases.