Bacon Queen Crowned In All-Pork Gown At Sizzling Swine Festival (VIDEO)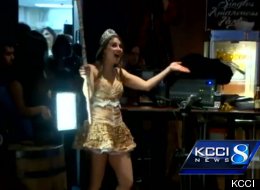 The smell of bacon was in the air Saturday as thousands converged on Iowa's capital city for an increasingly popular festival celebrating all things connected with the meat.
Some people wore Viking hats and others walked around with makeshift snouts for the Blue Ribbon Bacon Festival. The annual event featured more than 10,000 pounds of bacon served in unusual ways, such as chocolate-dipped bacon and bacon-flavored cupcakes and gelato.
"I love bacon more than I love my job," said Katie Nordquist, who was dressed in a tuxedo T-shirt that looked like bacon Saturday for her first time at the festival.
And there was a lot of bacon to choose from. The smell of unique concoctions like bacon gumbo and chocolate bacon bourbon tarts wafted through one of two buildings at the Iowa State Fairgrounds. The other building had an Iceland theme, with a Viking boat and Icelandic dishes with bacon, to honor a group of delegates visiting from the country.
Urbandale resident Mike Vogel showed up for a fourth year wearing a head-to-toe bacon costume. He said a widespread love for bacon is the reason about 8,000 tickets to the event sold out in just over three minutes.
"I think it's the right time of year when everybody's been cooped up," said the 39-year-old videographer. "It's a good time to get out, have some fun, try some new stuff, have a few beers and enjoy yourselves with everybody else."
Other events scheduled included lectures about bacon and an eating competition. The festival was preceded earlier in the week with a bacon queen pageant and a pig pardon by Gov. Terry Branstad.
Jessica Dunker, president and CEO of the Iowa Restaurant Association, said bacon used to be just a breakfast food. Now chefs from across the state and country use it in everything from vegetable dishes to desserts.
"It's come a long way and you can find it in almost any kind of food or beverage offering," she said.
Festival co-founder Brooks Reynolds, who officially started the event just a few years ago, said it's become the largest bacon showcase in the world. He called the event a "bacon fellowship."
"They can just bond with their fellow man and just celebrate the meat that everybody enjoys," he said.
Click HERE for the video.

Joe Johnson has been in the radio industry since 1999 working as everything from overnight jock to program director and everything in between. He has worked in a variety of markets including Tampa, FL, Gainesville-Ocalla, FL, Jackson, MS, Fayetteville, NC, Blacksburg, VA and currently Roanoke, VA. He has programmed formats as varied as his musical tastes including Active and Mainstream Rock, CHR, Sports and News Talk. He is a graduate of The University of Florida with both his undergrad and masters degrees in Communications. He is an avid sports fan, supporter of local music and motorcycle rider and has hosted a number of events including everything from charity functions to comedy showcases.